3DSearchIT can be incorporated into your existing workflow to dramatically ease search and trace similar 3D parts to shorten time to market and reduce cost.
3DSearchIT technology can be used to rapidly find parts based on 3D geometry.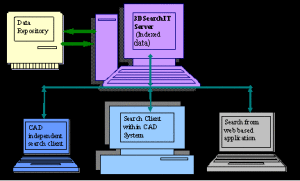 ---
Schematic representation of 3DSearchIT Server-Client Architecture
Geometric's 3DSearchIT technology is a modeler independent, geometric 3D shape based encoding and search library. By compact representation of the raw 3D data, 3DSearchIT technology provides an efficient tool for enterprise wide 3D information retrieval and reuse. Rapid deployment and seamless integration with various PDM systems and Web-based Part Catalogues helps immediate realization of significant product-data re-use and a corresponding drop in the development cost of new products.
---
Features
Shape/Geometry base Indexing and search of 3D data

Search based on textual attributes

Independent of CAD file formats

Supports Automatic crawling and indexing in local machine/network

Supports Interactive modifications to pre-clustering results

Automatically visualize clusters of similar models

Rename clusters according to industry standards or custom preferences

User enabled search preferences and display of results

Platform flexibility and can be deployed over PDM systems, CAD, modelers, Standalone application or Web based servers
---
Benefits of 3DSearchIT are easy to realize and various functions in an enterprise can benefit from its use.
Enterprise:
Savings in time and money by preventing introduction of duplicate parts across enterprise

Incremental cost savings by improved part management and service parts tracking

Increased Procurement leverage and cost savings

Reduced variability of Parts and improved quality

Shortened customer response time in sales for quotes due to improved retrieval of associated data

Reduced time to design due to re-use of models and engineering information
---
PDM Administrators:
Eliminate duplicates and group models based on shape

Maintain clean and manageable databases with no duplicates
---
Sales:
Respond to RFQs with accurate quotes by quickly retrieving similar past jobs

Improve customer response time

Improved management of data required for quotations
---
Designers:
Quickly identify and review alternatives

Less time spent on locating previously designed similar products

Improves design, manufacturing and analysis information re-use